Established in 1985,China Optometric and Optical Association (hereinafter referred to as "COOA") by the former State Ministry of Light Industry in conjunction with the former Ministry of Commerce, Ministry of Health, Ministry of Machine Building, Ministry of Ordnance Industry and Ministry of Agriculture to initiate the preparation and establishment of the Association, which is the only national industry organization in the optical industry.COOA is a national association voluntarily formed by the manufacturing, optometry, business, service institutions, education and training institutions, technical institutions and related social groups and individuals engaged of eyewear-related products in China; COOA is a non-profit-making social group, the business activities of COOA supervised by the State-owned Assets Supervision and Administration Commission of the State Council, and the registration management organ is the Ministry of Civil Affairs of the People's Republic of China.
COOA has seven professional committees and optometrists' branches, namely, frames and glasses, lenses and blanks, corneal contact lenses, equipment and instruments, optometry, quality standards, and spare parts of glasses, and each branch carries out professional activities according to the commission of the COOA. it also has a China Glasses Science-Technology Magazine, which is responsible for editing and publishing the"China Glasses Science-Technology Magazine".In accordance with national pertaining laws and regulations, COOA is the main body of China's optical industry management, mainly has three functions:
1. To serve the Chinese optical industry;
2. To discipline, coordinate and supervise the entire optical industry, and to defend the legal rights of the enterprises;
3. To assist the Government in enhancing the administration of the Chinese optical industry.
COOA organizes annual The China International Optics Fair in Shanghai and Beijing, during spring and autumn respectively. COOA also organizes overseas participating delegations for members to exhibit in influential international optical exhibitions every year. It promotes and regulates the development of the eyewear industry, and also strengthens the cooperation with international eyewear industry with these activities.
As at June 2022, the COOA has 853 Corporate members and 23 individual members. Among the Corporate members, there are 387 manufacturing enterprises, 347operating wholesale enterprises, 64 optical dispensing enterprises, 18 colleges and scientific research and technical institutions, and 37 local optical associations (chambers of commerce). The members include the major eyeglass manufacturers from all production areas in the country, and the annual production of eyeglasses accounts for more than 90% of the total production such as lenses, frames, sunglasses and other related spare parts, production equipment and raw materials. The members include all the provincial local optical associations (chambers of commerce) and the majority of large and medium-sized optical dispensing chain enterprises, as well as some representative small optical dispensing business.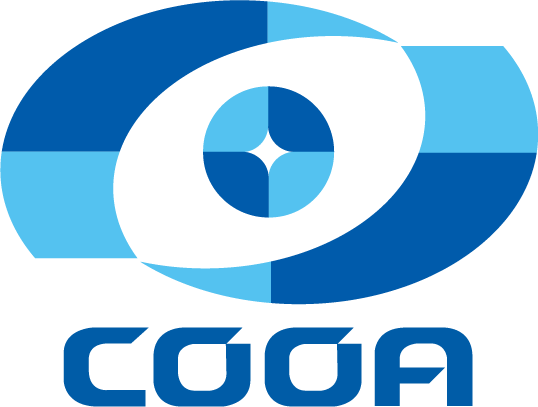 COOA full name in English "China Optometric and Optical Association".